Spring Tide Super Moon and a Super Low Strait
Fri 22nd March 2019
We have just reached the spring equinox and with it comes the spring tide in March.
This is when the gravitational pull of the full moon produces the lowest and highest tides. A spring tide is named after the Old Norse word 'Springa' which means to split open or to burst.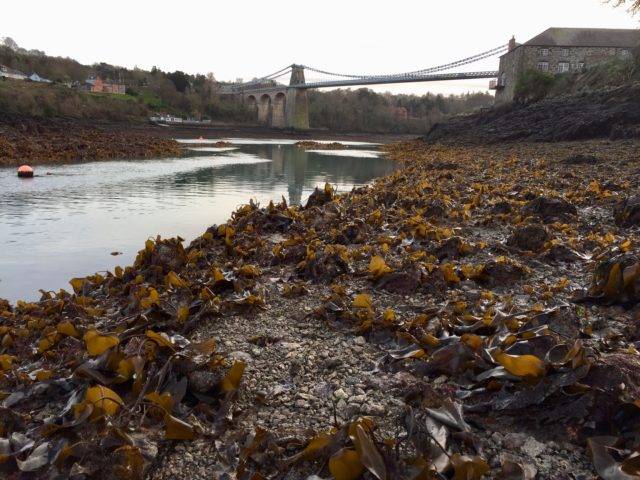 Today, 22/03/19 at 18:18 hrs the tide table is showing a minus figure of -0.1. This spring tide brings with it a low tide which is below the chart datum.
Yesterday the pontoon at at St. George's Pier was sat on the sea bed. This is a very unusual sight. Today the tide might be lower.
The high pressure on 21 March was pushing down on the sea, which forced even more sea out of the Strait. Mean barometric pressure at sea level is 1013 mbar and for every 1 mbar change this alters sea height by an unbelievable 1 cm. The barometric pressure yesterday was 1030 mbar and this would push the Strait down by an extra 17 cm.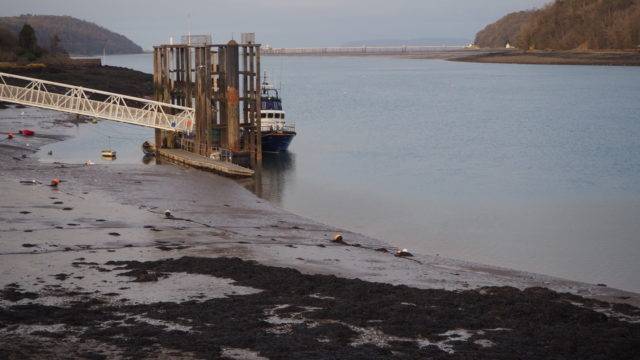 On Anglesey nearly 8 metres of water will slowly fill and empty out of the Menai Strait. Our blog 'Menai Strait the Moon and Monster Tides has some film of the moving waters of the Menai Strait. As Skipper Matt says, "Tides come in, go out and get you wet."
We walked along the bottom of the sea bed yesterday and saw some wonderful sites. The sea weed and kelp beds were beautiful.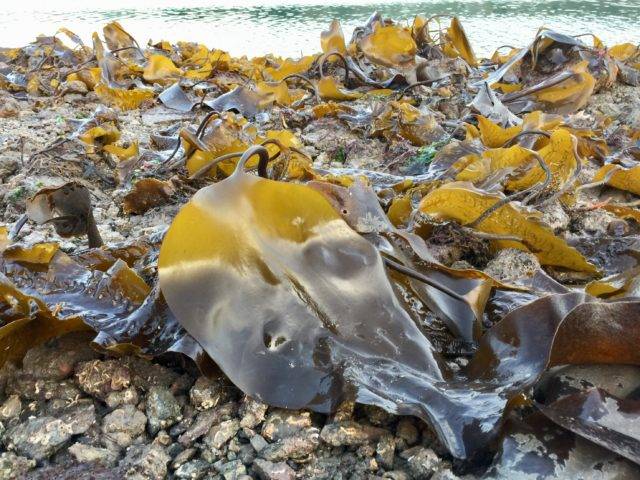 We think this is oar weed or smooth-stalked kelp. This kelp will all start to grow again now it is spring.
There were lots of interesting sea creatures to be found including crabs, starfish, muscles, barnacles and mermaid's purses (egg capsules).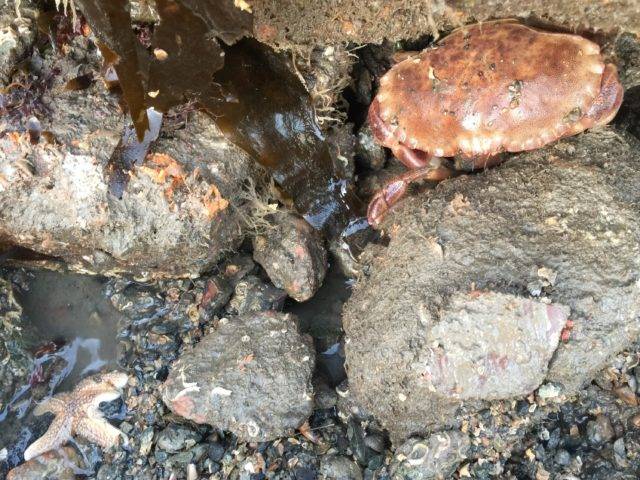 Skipper Christian found a very odd looking crab. Was it a scorpion spider crab? These crabs are found from about 4 m to 300 m offshore therefore, you can't normally pick them up.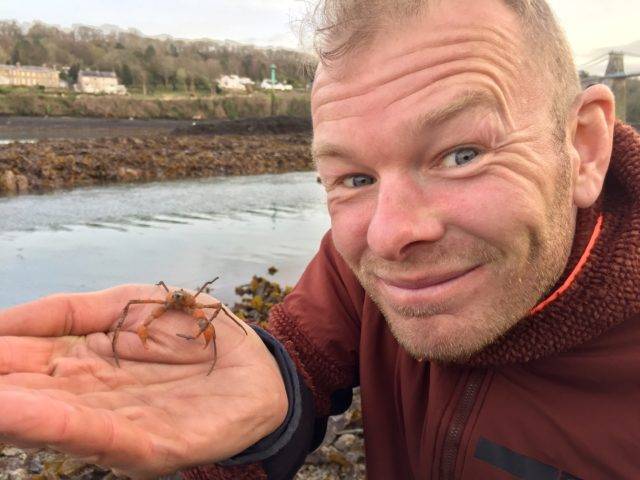 We have a great book 'The Essential Guide to Beachcombing and the Strandline' by Steve Trewhella and Julie Hatcher which we love. And this book adds a new dimension to a trip to the beach or a walk along the shore.
Our Skippers know lots about the marine environment and are experts on the waters of the Strait. Come on a 'Bridges and Swellies' tour to learn more about this unique and very changing stretch of water.
---